There is no reason not to wear sneakers with Ankara, especially with short gown styles. Ankara's short gown has a way of standing out, and we found out that ladies like to pair it with sneakers for a smart sassy look. Looking for the hottest Ankara short gown styles with sneakers? Here are some of the trendiest styles to add to your fashion archive.
1. Short Bubu Ankara Gown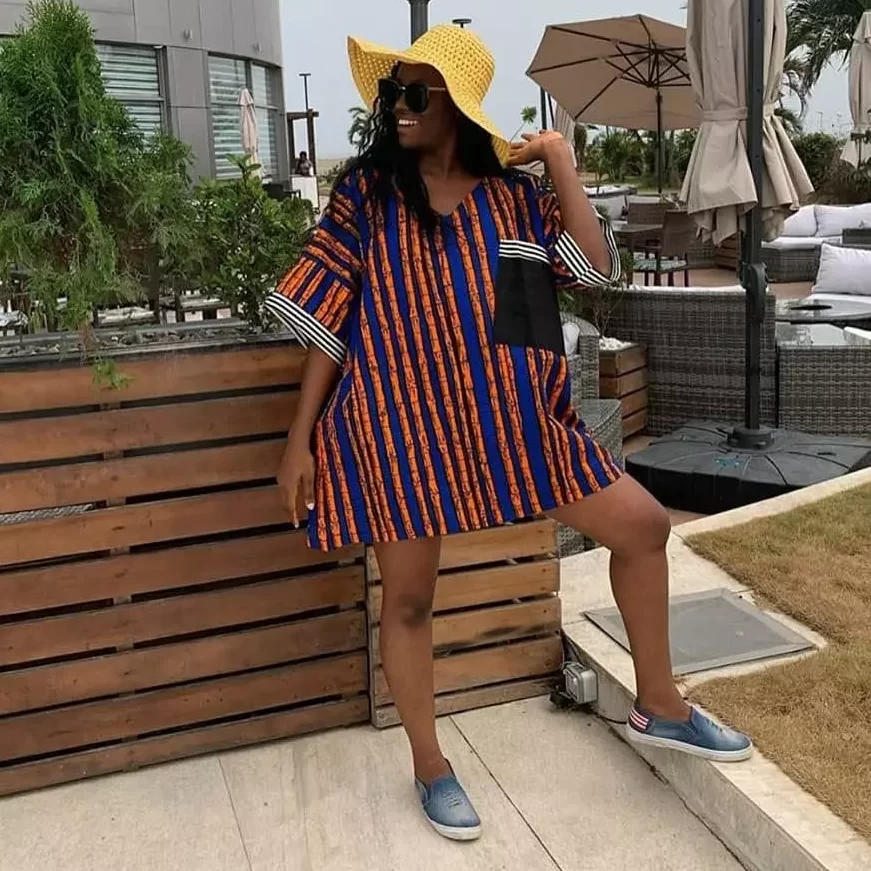 This is rated as one of the best Ankara styles you can wear to the beach, and we will have to agree with that. This outfit really does look simple and comfortable hence why it is called the perfect pair with your sneakers for any beach party.
2. Flare Slip Ankara Dress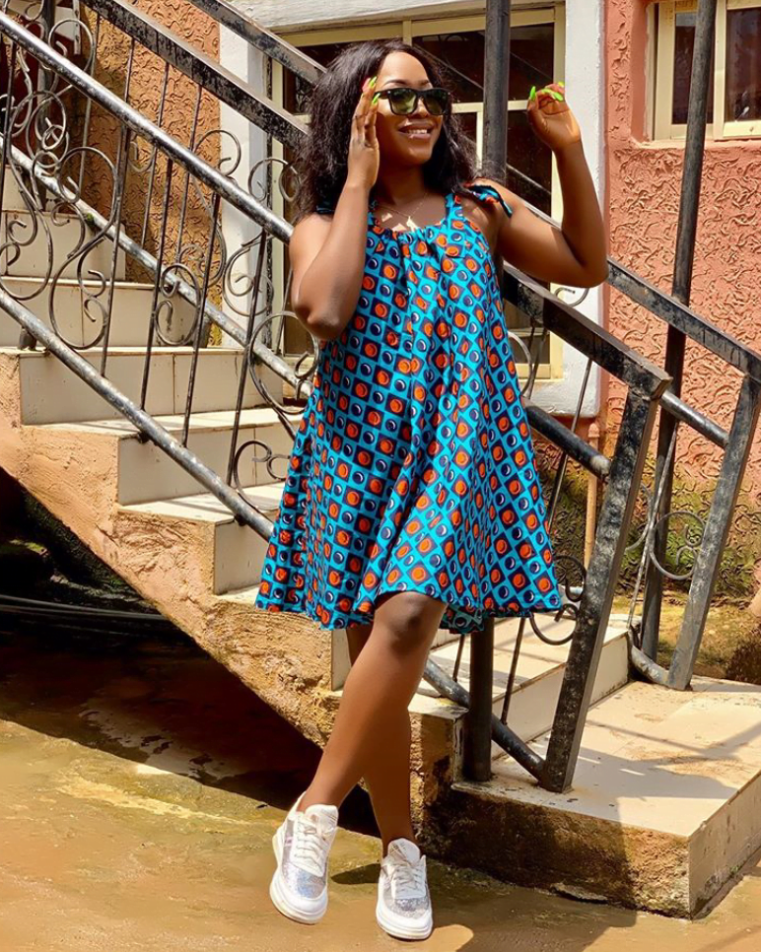 Many people consider Ankara quite difficult to pair with sneakers, but that thought should change soon after looking at this outfit. The Ankara style complements the sneakers and vice versa.
3. Latest V-Neck Ankara Gown
Ankara gowns are the highlight of fashion for many of us who like to be comfortable and the ability to pair them with sneakers offers another level of comfort we really can't say no to. So, here is another cute style to add to the list.
Collar Ankara styles are currently in trend, so there is nothing stopping you from adding this to your archive for Ankara short gowns. Also, you can swap the sleeves for something like a butterfly or cap sleeve.
5. Button Down Ankara Dress
This is another lovely Ankara style that will ensure the whole of your look stands out. This is suitable for formal occasions, weddings and hangout with friends.
6. Flare Cap Sleeve Ankara Style
If you have been trying to figure out how to rock your Ankara gowns styles with sneakers for a very long time, then here is a style that puts a wrap on the whole look. This exciting outfit works for any occasion and the simplicity is another reason this stands out.
7. Mini Free Gown With Sneakers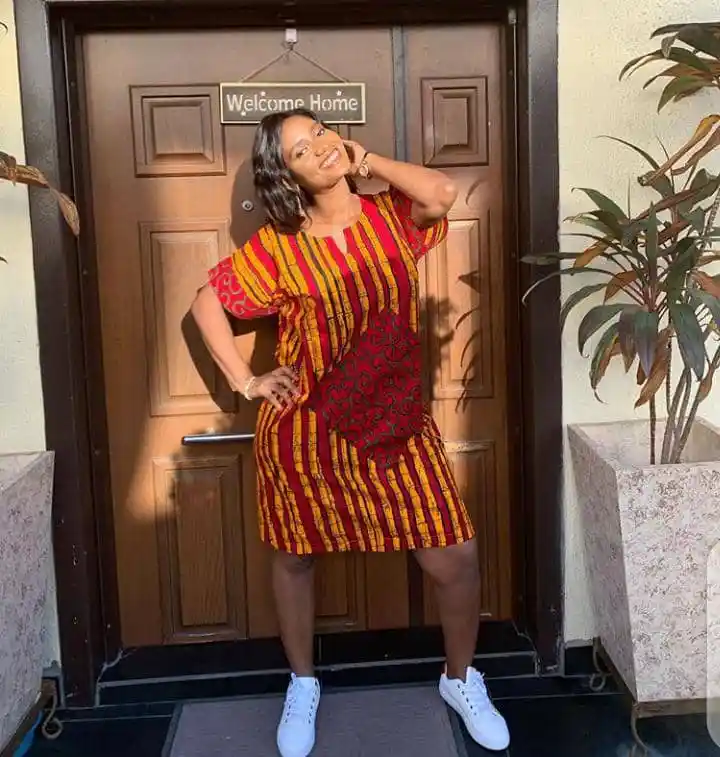 One thing about mini gowns is that they let you get creative with your choice of footwear. This outfit can be paired with heels, but we must say they look way chicer with sneakers.
8. Casual A Line Gown
Ankara styles can't be boring when you have the right style to inspire you. Your designer just needs to be good at replicating this and with your sneakers to pair, you are good for a wedding or hanging out with the girls.
9. Mini Ankara Style With Long Sleeve
You might have been pretty convinced that mini gowns are meant for heels however seems the fashion set has changed, and now you can have fun pairing it with your favorite sneakers.
10. Layer Gown Design With Sneakers
Layered gowns have always been considered stylish, and now you can make it more so by substituting those pairs of heels for comfortable sneakers.
11. Mini Free Ankara Style With White Sneakers
A mini-free Ankara style is one of the most common Ankara short gown styles and you are going to love it more with your favorite sneakers. A white sneaker is perfect for keeping your Ankara look cool and simple for any occasion.
12. Flare Ankara Gown
A flared dress is not only comfortable but with sneakers, it becomes super convenient to rock. The belt adds to the beauty of this Ankara dress and you can confidently have fun at any party or a casual day out.
13. BouBou Ankara Dress
If you are into really comfy Ankara styles like boubou then sneakers are needed to complete the look.
14. Simple Ankara Print Gown
This is beautiful and just like every short Ankara gown style, it is comfy and easy to recreate. Ankara print is fast becoming the choice of fabric to go and it looks amazing on sneakers.
15. Micro Gown With Sneakers
Here is an exciting Ankara micro gown style you can't help but love for its simplicity. The style is not just perfect when it's paired with sneakers but also fitting for simple parties.
16. Kimono Wrap Gown
A kimono wrap dress is never a boring choice of Ankara-style, it tends to stand out at any event. It gets even fancier with sneakers.
17. Simple Wrap Gown
Wrap gowns are not just popular but cool with any kind of footwear.
18. Ankara Short Gown With Bell Sleeves
Bell sleeves are the most common sleeve types and this is due to how comfortable they are. When it's paired with comfortable sneakers, they are considered classy and convenient.
19. Raglan Sleeve Short Ankara Gown
A straight Ankara gown with a raglan sleeve can never go wrong with sneakers. This look is gorgeous and should be found in every ladies' Ankara fashion archive.
The collar on this outfit makes it ideal for the office on a Friday and also on a casual day out.
21. Elegant Ankara Style
One of the things to love about Ankara styles is that they can be casual or fancy, depending on what you are trying to recreate. This is the perfect short Ankara gown style for the church, it is elegant and not too flamboyant.
22. Off Shoulder Ankara Style
Off-shoulder cap sleeves look great with any design and the exciting factor is you can add it to any style or have other sleeve types added to it.
23. Cute Designer Sneakers With Double Sleeve Ankara
Choosing sneakers to pair with your short Ankara gown can be just as fun as pairing with heels. Designer sneakers are usually worn to make casual outfits look sophisticated, and it makes all the difference with this Ankara short gown.
24. Average Ankara Gown Style
Cute and simple ankara style is something every lady should have.
25. Simple Off Shoulder Short Ankara Gown
A plimsoll sneaker easily elevates any casual outfit hence it's the perfect choice of sneakers for an off-shoulder Ankara short gown.
26. Cute Ankara Split Gown
A split Ankara short gown is another Ankara style we can't get enough of. Seems this is a style that will continue to be in trend and rocking it with sneakers makes it even more fun.
27. Layered Ankara Short Gown
You do not have to stick to plain white or sneakers. Add some fun to your Ankara short gowns by going for cool canvas sneakers.
28. Latest Ankara Short Flare Gown
This is a style that has been setting trends on Instagram recently and we can understand why. The style is simple and pairs nicely with either heels or flats.
29. Straight Ankara Gown Style
A straight ankara gown style is perfect for any figure.
30. African Print Short Gown Style With Sneakers
Here is another versatile Ankara gown style you can wear to a date night out with your girlfriends, office cocktails, or date nights.
31. Dashiki Ankara Style With Sneakers
Dashiki helps you keep it simple and it's more amazing with Ankara prints rather than the regular Ankara fabric.
32. Ankara Dress With Patched Pockets
The mini Ankara gown with a patched pocket is one of the most versatile Ankara styles out there. You can go with a blouse version of it to pair with denim and not to forget the sneakers look perfect with it.
33. Round Neck Ankara With Rope Belt
The interesting thing about Ankara is that you can personalize your style. This simple Ankara gown style can be worn with or without a belt and all you need is a pair of comfortable sneakers to compliment it.
34. Danshiki Shift Ankara Gown
Dashiki is one of those styles you can't help but love, and it gets even more interesting when you can wear it with your favorite sneakers.
35. Shift Ankara Short Gown Style
Ankara shift gown style has recently been introduced, and we must say it's fascinating. The style is classy enough to be rocked by any shape. This style looks beautiful when paired with sneakers, and it's the perfect combo when you are trying to recreate an effortless party look.
Final Thoughts
The ideology that the African Ankara style can be worn in a classy way with sneakers is not wrong at all. When it comes to fashion Ankara is always going to remain that party fabric you need and in terms of convenient footwear, sneakers are going to be on the top list.