Currently, rich aunty gown styles are the one outfit idea that is rocking the boat for millennials and Gen Z's alike, they are talking about how it gives the soft life look effortlessly. One of the reasons this long free gown is worth having in your closet is that they are flattering on any body type and can be used on different occasions.
Typically, the rich aunty vibe gowns are the "Millennial" but surprisingly they are pretty classy enough to be rocked by the Gen Z's and they practically find it fitting as a baby girl outfit. So, if you are thinking of jumping on this trend, we have rounded up some of the best rich aunties vibes gowns we are currently loving.
1. Bubu Kaftan With Front Slit
This rich Aunty Bubu gown is surely giving all that it needs to give. This is named the kaftan Bubu as you can you the kaftan material to make it and also enables the combination of colors on each side.
If you have a special occasion, this is one of the most sought-after rich aunty gowns for that, it's fitting for attending weddings or birthday parties. From the length to the small front slit and the design, this gives a luxurious lifestyle.
2. First Lady Rich Aunty Gown
Everything about these screams the rich first-lady vibe, right? There is quite a lot to love about this look, from the style to the shades and the bag, they are all giving rich aunty vibes. Another reason rich aunty outfits have been in trend is that they are very comfortable. You can choose two patterns of fabric to get this as well, the trick is to keep the design at the front.
3. Ankara Print Rich Aunty Vibe Gown With Bishop Sleeve
Here is another style of rich Aunty Bubu that would make you look relaxed, luxurious, and of course, beautiful. We did find this style to be fitting for occasions like girl's hang-outs, anniversaries, practically all traditional types of parties weddings, and Nikah. If you have recently become invested in rich aunty vibe gowns, this is a good place to start.
4. Sleeveless Rich Aunty Bubu
This bubu gown is quite beautiful yet simple. If you are one for comfort simple Bubu that gives a rich aunty vibe look then this is the ideal outfit idea. You can go ahead and design this every way you want and also go with any fabric you feel gives you that luxurious approach. When it comes to creating magic in bubu trends, sleeveless rich Aunty Bubu will always be on the list.
5. Elegant Abaya Gown
Want to go all the way with the rich aunty vibe gown? This is one abaya gown that screams luxury yet offers so much comfort that lets you hit the dance floor elegantly when your favorite music comes on.
This is also a traditional rich aunty vibes gown and no matter your taste in bubu, this is one you can't help but love. Ensure to check out her page for more rich aunty gowns, her styles are quite creative and unique.
6. V-Neck Rich Aunty Gown With Fringes
The next top-notch rich aunty vibe gown we have on this list is this exquisite gown that would no doubt flatter any shape. This Bubu style is so charming and highly fitting for any occasion. Also, it's the perfect church outfit gown, especially for single ladies looking to catch the eyes of their crush, this is declared as the wifey rich Aunty Bubu.
7. Modern Butterfly Boubou
Check out one of the latest rich aunty gowns. This sassy gown works for all occasions and it also leaves room for creativity. This is a gown designed to flawlessly make you look elegant and we have to say the fabric adds more to the beauty so do consider using this fabric.
8. Mid-Length Rich Aunty Gown
One of the benefits of rich aunty gowns is that you can keep it super simple and it would still be elegant and give the luxurious feel you are aiming for. If you are not into long flowy gowns and shorts ones too then this should set the perfect balance.
9. Adire Rich Aunty Vibe Bubu Gown
Adire with your name printed on it while being styled as a rich aunty gown will have you looking fancy and gorgeous, no doubt. This is a cool outfit and pairing it with that sunglass and the head tie makes it look even more elegant.
10. Brown Embroidered Boubou
This is a gorgeous rich aunty gown, everything about the design is fascinating. A Brown Embroidered boubou gown lets you look like the rich alhaji wife while still making you look classy. The statement embroidery on it further adds to the beauty and it will draw attention to you.
11. Sophisticated Rich Aunty Vibe
Want to stand out with your boubou? Here is the right rich aunty vibe gown you want to rock, this type screams luxurious, and yet it is super simple. The design happens to stand out in so many ways thereby leaving room for creativity as well.
12. Two Pattern Rich Aunty Gown
Two-toned rich aunty vibe bubu was only recently introduced but we have to admit that it's taking fashionable bubu's to another level. It's perfect when you need a simple comfortable outfit and also when you want to go all-out fancy. The blue fabric used further highlights the beauty of the gown.
13. Simple V-Neck Bubu
Next on the list of our favorite rich aunty vibe gowns is this classy gown. The pattern is a cute one and getting your fashion designer to work on this should be easy. There is a lot to love about this fashionable piece and also this is one of the best fabrics for making a rich aunty gown, it is rich and blends with any skin tone.
14. Ankara Maxi Bubu
The kind of comfort that maxi bubu offers is what makes it our go-to outfit for many occasions. This gives the lower body a perfect balance and happens to be an extremely loose fit so it's one you would love.
15. Embroidered Agbada Bubu
Nothing screams "rich aunty" like this look. We love how the color is blended in not to be too flashy and the agbada design embroidered makes it look well-detailed and sophisticated. This works perfectly for all traditional occasions.
Neon green is a color that did kick off the rich aunty look, so this is surely making a rich aunty statement effortlessly. We love the simplicity and the color.
17. Rich Aunty Shirt Dress
Rich aunty vibe gowns are not limited at all, here is a shirt dress that perfectly suits the rich aunty look. This is looking classy and happens to be just the fancy rich aunty dress you want to be vibing in when you are hanging out with the girls.
18. Long Flowing Rich Aunty Vibe Gown
Some of us are all in when it comes to long flowing gowns, there is no doubt that they are comfortable. This is a great choice if you are looking for a gown that balances your shape and this will have you walking elegantly thereby giving the luxury look effortlessly.
19. Black And White Pattern Maxi Gown
This is another rich aunty vibe gown that signifies the 'soft life' trend. Even if jeans and tops are your usual go-to, this is one rich aunty gown that will quickly capture your eyes. It is super comfy and the longer it is, the more elegant it looks.
20. Ankara Dansiki
This entire look is giving tradition and luxury at the same time. Dansiki have always been in trends and infusing them to create rich aunty vibe gowns is not surprising and they are fitting. You can easily see how it's neatly crafted.
21. Butterfly Rich Aunty Agbada Dress
While we love the simple rich Aunty maxi gown, this Agbada dress is looking fabulous. It has an incredible design and the gold fabric used makes it look even more stunning. From the design to the fabric color, this is suitable for any shape and skin tone.
22. Pink Silk Rich Aunty Vibe Gown
This is the type of bubu that would make young girls look mature and if you are up for that then it is the look you should be hopping on. Also, it is so unique and makes you look luxurious without even adding many accessories to it.
23. Boubou With Chiffon Frock
This is indeed the definition of a rich aunty vibe! The combination of chiffon frock did make it stand out, you can slay in it no matter the occasion. This is cute and stylish. Adunni Ade is one that never gives a boring style and when it comes to rich aunty gowns, she has excellent ones to inspire you.
24. Fit Rich Aunty Vibe Gown
If you are thinking of jumping on this trend but you are not a fan of loose bubu gowns, this fit-rich Aunty Vibes gown is perfect. While the loose maxi Bubu will always be loved, we have to admit that fit ones like this are super cute as well.
25. Mini Rich Aunty Gown
The mini Bubu gown is just as cute as the long-flowing ones. You can also go north with this, it is not limited when it comes to occasions either. Mini gowns like this are now discovered to work as owanbe outfit ideas and you will be surprised how much ladies love them.
26. Iyawo Alhaji Boubou
This is labeled the Iyawo Alhaji gown and looking at it, we would have to agree that it's nothing but the truth. It's the classic highlight of rich aunty vibes gowns, it's what also strikes the balance between maxi and boubou.
27. Red Kaftan Rich Aunty Gown
This look is lovely. Red makes this bubu gown look even more dashing than it already is, and the color represents the soft life rich aunty look we are aiming for. We also love the embroideries on the front.
28. Cute Butterfly Rich Aunty Gown
Want to serve that haute rich aunty look effortlessly? This is one of the simplest rich aunty gowns, it's not overly dramatic but would give you that rich aunty look and it is also one that ladies find very convenient to put on no matter where they are going.
29. Drawstring Flowy Rich Aunty Gown
This whole look is giving elegant without being extra. This look helped serve the rich aunty look without going out of pocket or your comfort zone either. If you are into jeans and t-shirts then this is the perfect look you can switch to for an updated look.
30. Rich Aunty Abaya Gown
Abaya gowns are not left out when you are looking to recreate the rich aunty vibe they are found to give that gorgeous affluent look easily. This abaya leaves room for creativity and don't hesitate to choose any fabric or color of your choice.
31. Black Orange Rich Aunty Kaftan Gown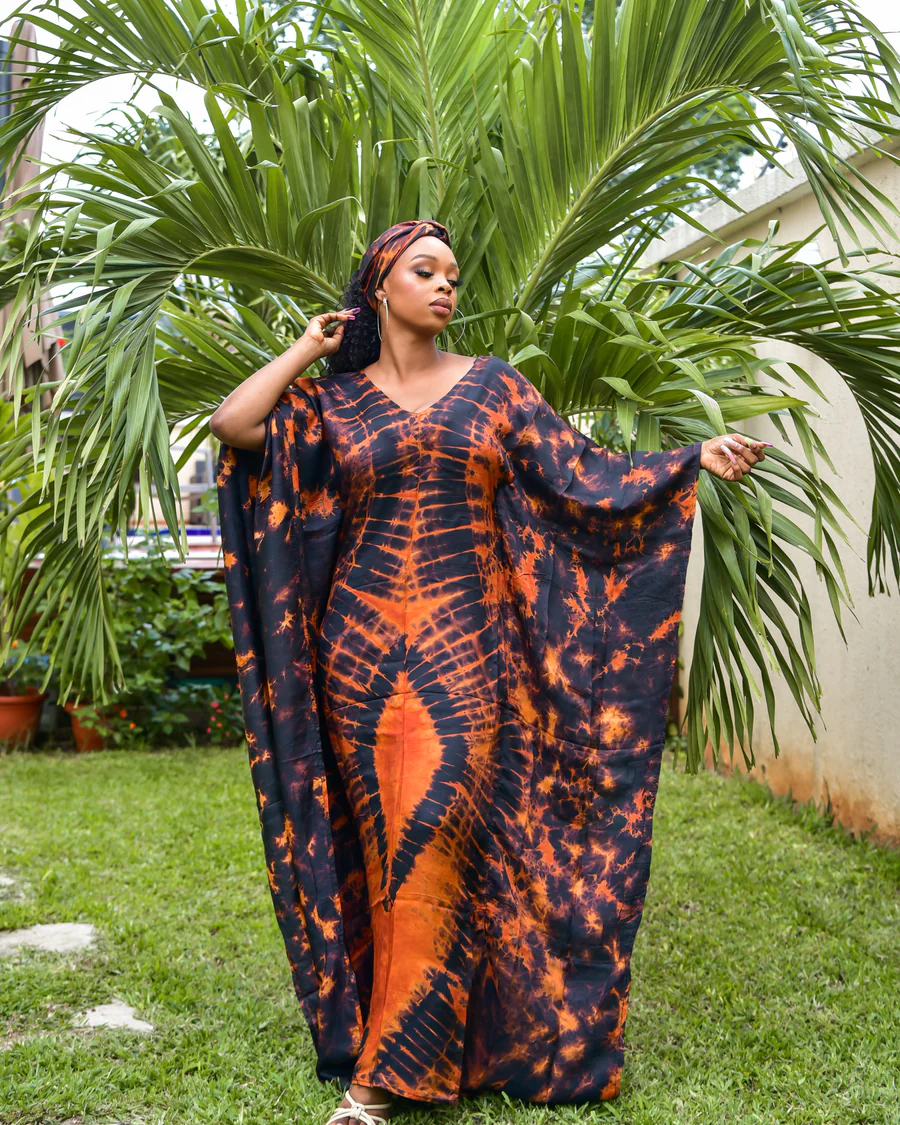 One of the reasons rich aunty gowns are trending is that they are comfortable and you do not have to worry about putting too much effort into it. This is a really lovely style and it's one with a design that retains the same shape rocking it.
This is also known as a classic butterfly-shaped gown. This rich aunty gown is made of adire and we all know how this traditional fabric can bring the beauty out of a maxi kaftan gown.