Every hair type needs care for it to stay healthy and with 2c hair type, there are simple methods that can help limit frizz and add shine to your hair, wavy hair is more prone to frizz and flyaways and if this is not taken care of, it can lead to hair loss.
The following suggestions can keep your hair looking and feeling its best throughout these cooler months and beyond.
Trim your tresses, split ends can pull your waves tighter and make them less able to chum properly, but a monthly trim can help reduce split.
Use moisturizing daily and conditioning that has a bit of protein in them
Go for a microfiber towel rather than your regular bathroom towel or 100% cotton t-shirt to scrunch out the excess water
Try switching to the scrunching method when applying product to your hair, this formation encourages curl formation.
Embrace your natural hair texture and 2c hair type does not need to be weighed down with products, keep it simple.
25 Style Ideas For 2c Curly Hair
Every hair type needs protective hairstyles that keep it healthy and stops you from brushing all the time, below are 15 style ideas for 2c curly hair type.
When it comes to the curl specification of 2c hair, it is defined as wavy and can tangle easily if it is not styled properly. Hence, why braided cornrows can be a perfect option for it. This hairstyle is cool for those trying to keep things simple while looking classy, and it helps define your 2c curls better as well.
2. Cute Tuck Behind Waves
You do not have to keep your waves looking all tousled up when you can simply have them tucked behind. This is another cute way you can keep your waves out of your face. You can roll it into a bun at the back or drop it for a more elevated classy look.
3. Messy Wavy Hair Updo
2c hair is lovely when they are packed into a bun and the messy part always turns out even more beautiful. This is described as the most romantic updo for creating an elegant look, and we definitely agree with it.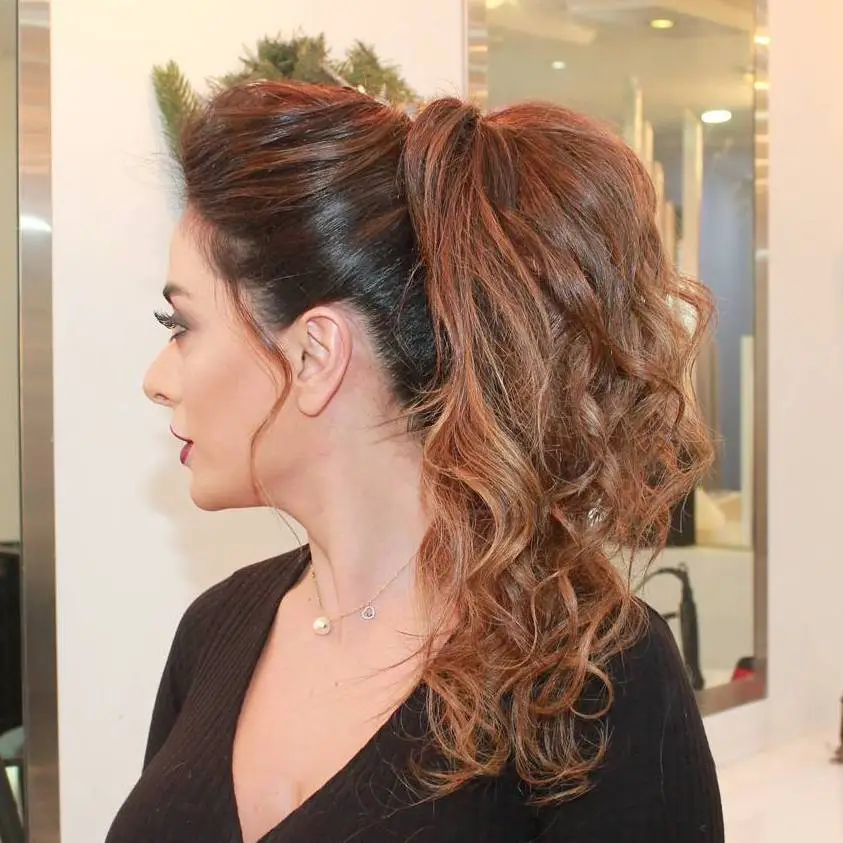 Ponytail is not only for curly hair types, your wavy hair can look good with ponytails as well. We all love ponytails, and luckily it's that hairstyle that works for any hair type.
5. Wet And Styled 2c Hairstyle
Not every one of us likes styling our hair especially if you just get out of the shower. The wet and style hairstyle help keep things simple, and you don't have to comb your hair either, you can also give it a side or middle part too.
6. Bantu Knots And Curls
Bantu knots and curls can help you look elegant effortlessly. Just like every hairstyle for wavy curls, you can do this at home yourself. This is a well-recognized hairstyle in many African countries, and you can go all around with it or just stick to the front alone.
If you have recently gotten a haircut for your 2c hair then this is one of the perfect ways you can style this. This type of styling works for both long and short 2c hair types, simple trimmings might be needed to even out the ends, but it's one really cool hairstyle.
8. Two Strand Twist
While the hairstyle you can make with your 2c hair type is considered limited, it does not apply to the type of twists you can do. Two-strand twists are really great either for defining your curls or as an elegant hair-do.
9. Medium Curly Two Layer Hairstyle
There is something often considered iconic about this hairstyle. Although it is suitable for long and short hair length, we find it to be more gorgeous if you have medium hair length. Just like every hairstyle for 2c hair type, you have different methods of styling, you can roll the bun into one or as many knots as you want.
10. Loose And Wispy Ponytail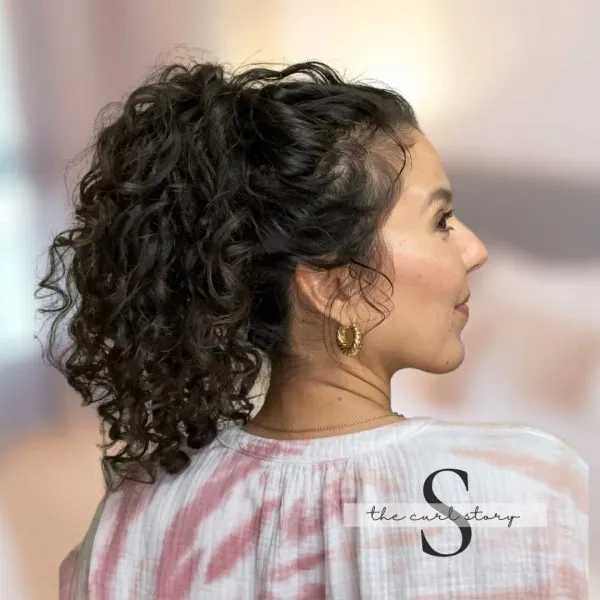 We already agree that a ponytail is not an impossible hairstyle for wavy hair, but it's likely not going to be tight as that of the 3b hair type. Loose and wispy 2c ponytail have some elegant attribute to it and styling it is very easy as well.
11. Half Up Half Down Tousled Wave
2c curly hair gives you a chance to style your wavy hair in a messy bun and still make it look exotic, this hairstyle is quite classy and not too dramatic, it can be worn to work or for a casual errand. Styling this can be done yourself at home however it is best to detangle properly first before making this hairstyle.
12. Front Bun With Side Bangs
Here is another beautiful way you can enjoy your curls, just like every other curly hair type, this hairstyle makes you look chic and shows off your amazing curls, ensure your hair is detangled after this and hydrated as well.
Planning to spend some time outdoors while you show off your curls? This might be just the hairstyle for you to rock, with no manipulation on your hair and scalp, and all you need is to ensure your hair is moisturized you should try trimming off your split ends if you have damaged hair.
14. Messy Afro Curls With Uneven Bangs
Most 2c natural hair can be pretty fragile however this hairstyle above can keep it from getting more damage or frizz, keep your scalp clean, and your hair well moisturized.
Short 2c hair curls can also style their hair in a unique and healthy way, it prevents split ends, and having short hair would make your hair easier to style, you can easily grow healthy 2c hair with this hairstyle.
16. Top Bun With Sleek Ponytail
Most hairstyles just need to be easy enough on your scalp and low-maintenance hairstyles are the best ways to keep 2c hair from frizz.
17. Deep Curls With Invisible Side Parting
This is one hairstyle we love, and it can be replicated by any hair length however your hair needs to be properly cared for with this hairstyle, so embrace your curls with this hairstyle.
18. Curly Afro With Feed
Feed-in braid elevates your curls especially if you are transitioning, this can help blend the relaxed part of your hair with your natural hair.
19. Medium Bun With Cornrows
You would want to go for a simple classy hairstyle like this if you want to bring out more of your curls, it blends your waves in, making it soft and smooth.
20. Messy High Bun With Space Bangs
Messy buns are gorgeous and are not limited to 4c hair type alone, you can enjoy this hairstyle on this hairstyle even more as your curls tend to show more. Space bangs add a more unique look to any hairstyle of your choice and little to no trim would be required.
21. Curly Hairstyle With Double Bun
Here is another low-maintenance hairstyle you can have style at home, go for one bun or a double bun to add more glam to your look.
22. High Bun With Baby Bangs
You can achieve practically any look with a high bun and pairing it with a baby bang gives just the fanciest hairstyle you can wear to almost any event.
23. Side Flip Long Curls
Most curls begin at the root and while this might be really beautiful, you need hairstyles that won't tighten your scalp or cause breakage, this hairstyle above is recommended.
24. Loose High Bun With Uneven Bang
Your curls will thrive with this fascinating hairstyle, classy and formal for an event, you can decide to go for a sleek high bun depending on how you want it, but a loose messy bun is more fitting for its fragile 2c natural hair.
25. Long Curls With Feed And Cornrow
This is one of the most favored hairstyles in East Africa, and it could be a great hairstyle for 2c hair type, it protects the edge of your hair, but the braids should not be done too tightly to prevent breakage, this hairstyle is also low maintenance, and it could last up to 4 weeks if treated properly.